Törggelen
The tradition of Törggelen takes place in October and November. There are many theories as to the origins of this tradition, one being that in the olden days when the farmers who cultivated wine and sent their animals to the pastures of the mountain farmers' in summer returned the favour come harvest time with a good farmers' feast. After the harvest, the "Suser" wine must was served together with all the deliciouses of the year's efforts. Along with the platters of meat, they served then - as today – dumplings, spinach-filled ravioli, sugary doughnuts and roast chestnuts.
Enjoy your holiday: San Genesio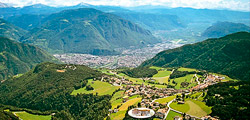 San Genesio and the Salto

Fascinating holiday world...
Summer

Summer freshness...
Winter

Fabulous winter holiday...
Experience Bolzano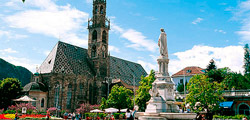 Experience Bolzano
Mercatino di natale
Bolzano Card