Kneipp
Water is life! Kneipp – this name stands for a natural medical treatment that treats the patient as a whole – his body, mind and soul - with footbaths after hikes, alternating hot and cold baths, Kneipp gushes of water.
Alternating hot and cold baths in our Kneipp complex
An alternating hot and cold footbath helps in the case of chronically cold feet and complaints of the circulatory system. You do this by immersing your feet alternatively in hot and cold water. Your blood vessels and circulation are stimulated. Your circulation improves and your whole body gains heat. In the case of an alternating footbath, you begin first of all with the hot water and keep your feet in the hot water until they are pleasantly warm. Then immerse your feet in cold water for ten to twenty seconds. You should repeat this rotation two to three times. The treatment is ended with a cold application. It is recommended before a sauna if you suffer from cold feet. Never go into a sauna with cold feet.
Enjoy your holiday: San Genesio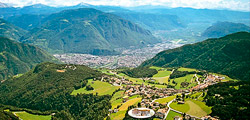 San Genesio and the Salto

Fascinating holiday world...
Summer

Summer freshness...
Winter

Fabulous winter holiday...
Experience Bolzano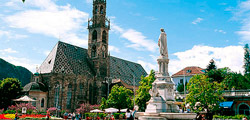 Experience Bolzano
Mercatino di natale
Bolzano Card