Sleigh rides
The Salten and its larch woods are a revelation of nature's secrets. Explore this unparalleled area and feel the sensation of freedom on horse-back or mountain bike...
Walking is good for you: Alone, in pairs, with friends or family. Listen to the silence, feel the sun's rays and enjoy the view.
Reward yourself with a hearty snack of speck, traditional sausages and cheese.
Prices for sleigh rides (on a couch with 6-7 persons)
Ride on the Salten (3 hours) with a stop in a moutain hut
30,00 €
Enjoy your holiday: San Genesio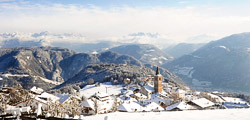 San Genesio and the Salto

Fascinating holiday world...
Summer

Summer freshness...
Winter

Fabulous winter holiday...
Experience Bolzano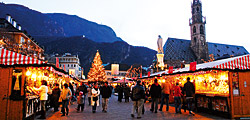 Experience Bolzano
Mercatino di natale
Bolzano Card