General weather situation today
Northwesterly currents will bring dry air masses to the Alps.
General weather situation today:
Mostly sunny, in the North cloudy and some snowflakes. In the northern valleys föhn.
Max.
3 °C
Min.
-6 °C
Mountain weather today:
Humid air masses will reach the Alps. Cloudy sky with snowfall during the course of the day.
Temperature in 2.000 m: -9 °C
Temperature in 3.000 m: -12 °C
0°C limit: 300 Meter


Weather tomorrow:
Cloudy sky with some snowfall in the northern parts. Dry conditions in the South.
Max.
2 °C
Min.
-7 °C
Weather development:
29.01.2021
30.01.2021
31.01.2021
Max. 5 °C
Min. -14 °C
Max. 8 °C
Min. -7 °C
Max. 7 °C
Min. -5 °C
Enjoy your holiday: San Genesio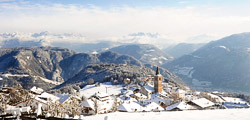 San Genesio and the Salto

Fascinating holiday world...
Summer

Summer freshness...
Winter

Fabulous winter holiday...
Experience Bolzano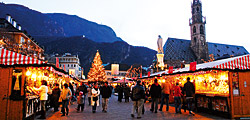 Experience Bolzano
Mercatino di natale
Bolzano Card