General weather situation today
High pressure conditions.
General weather situation today:
Mostly sunny weather with some high clouds in the evening.
Max.
15 °C
Min.
1 °C
Mountain weather today:
High currents from north-west will bring humid air masses toward the Alps. The high cloudiness can bring diffuse light conditions. The wind will be stronger.
Temperature in 2.000 m: 6 °C
Temperature in 3.000 m: 0 °C
0°C limit: 3000 Meter


Weather tomorrow:
Partly sunny weather. Very weak precipitation are not completely excluded over the northern part of the territory.
Max.
17 °C
Min.
2 °C
Weather development:
24.02.2020
25.02.2020
26.02.2020
Max. 17 °C
Min. -1 °C
Max. 13 °C
Min. -2 °C
Max. 12 °C
Min. 0 °C
Enjoy your holiday: San Genesio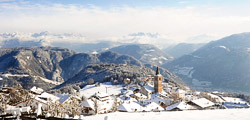 San Genesio and the Salto

Fascinating holiday world...
Summer

Summer freshness...
Winter

Fabulous winter holiday...
Experience Bolzano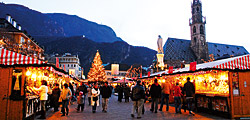 Experience Bolzano
Mercatino di natale
Bolzano Card