General weather situation today
High pressure system, but the air masses will become more humid from the west.
General weather situation today:
Pretty sunny with some clouds in the afternoon.
Max.
19 °C
Min.
10 °C
Mountain weather today:
A cold front will pass the Alps during te night from Friday to Saturday. Clouds will reduce the visibility on the mountains. Some showers can be possible in the afternoon, in the evening widespread showers and isolated thunderstorms. Snow line falling towards 1600 m in the northern regions.
Temperature in 2.000 m: 3 °C
Temperature in 3.000 m: 0 °C
0°C limit: 3000 Meter


Weather tomorrow:
Generally cloudy skies with some sunny spells. Showers and isolated thunderstorms can be possible in the evening and during the following night.
Max.
18 °C
Min.
10 °C
Weather development:
On Saturday residual showers in the morning, the pretty sunny weather. On Sunday, it will probably be changeable with many clouds and some showers are expected during the evening. On Monday temperatures will drop considerably. On the main ridge of the Alps it will remain changeable, towards the south it will be quite sunny. Strong north wind in many valleys. Pretty sunny weather on Tuesday, but windy and cold.
25.03.2023
26.03.2023
27.03.2023
Max. 19 °C
Min. 1 °C
Max. 17 °C
Min. -1 °C
Max. 16 °C
Min. -4 °C
Enjoy your holiday: San Genesio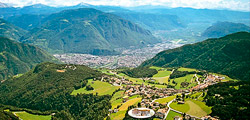 San Genesio and the Salto

Fascinating holiday world...
Summer

Summer freshness...
Winter

Fabulous winter holiday...
Experience Bolzano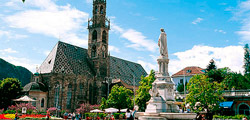 Experience Bolzano
Mercatino di natale
Bolzano Card