General weather situation today
High pressure conditions.
General weather situation today:
Sunny weather.
Max.
18 °C
Min.
3 °C
Mountain weather today:
High pressure. Sunny weather all day long, temperatures won't change much.
Temperature in 2.000 m: 7 °C
Temperature in 3.000 m: 0 °C
0°C limit: 3000 Meter


Weather tomorrow:
Sunny weather in the whole region, clear sky.
Max.
21 °C
Min.
4 °C
Weather development:
08.04.2020
09.04.2020
10.04.2020
Max. 23 °C
Min. -2 °C
Max. 24 °C
Min. -3 °C
Max. 25 °C
Min. -1 °C
Enjoy your holiday: San Genesio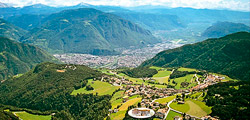 San Genesio and the Salto

Fascinating holiday world...
Summer

Summer freshness...
Winter

Fabulous winter holiday...
Experience Bolzano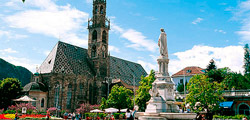 Experience Bolzano
Mercatino di natale
Bolzano Card