General weather situation today
The low pressure area will move towards east. Partly humid air over the Alps in northwesterly winds.
General weather situation today:
A mix of sun and clouds, generally cloudy in the very North of the region.
Max.
18 °C
Min.
6 °C
Mountain weather today:
On Wednesday and Thursday a high pressure area will ensure calm autumn weather. On the mountains the visibility will be good. The cloud fields that pass through will mostly be far above the peaks, only on the eastern main alpine chain initially there will be possible denser clouds.
Temperature in 2.000 m: 7 °C
Temperature in 3.000 m: 0 °C
0°C limit: 3000 Meter


Weather tomorrow:
In South Tyrol it will be quite sunny with a few high cloud fields.
Max.
21 °C
Min.
9 °C
Weather development:
01.10.2020
02.10.2020
03.10.2020
Max. 20 °C
Min. 3 °C
Max. 19 °C
Min. 4 °C
Max. 16 °C
Min. 7 °C
Enjoy your holiday: San Genesio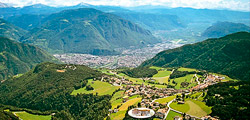 San Genesio and the Salto

Fascinating holiday world...
Summer

Summer freshness...
Winter

Fabulous winter holiday...
Experience Bolzano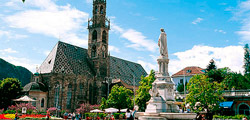 Experience Bolzano
Mercatino di natale
Bolzano Card