General weather situation today
High pressure conditions lead to sunny conditions. Colder air masses reach our region.
General weather situation today:
Very sunny all over the day. Towards the evening some cumuliform clouds will develop especially in the southern regions and local rain showers are possible. Windy in the northern valleys.
Max.
24 °C
Min.
12 °C
Mountain weather today:
High pressure conditions. Apart from local low stratus clouds in the early morning sunny conditions. Quite windy on peaks or mountain crests.
Temperature in 2.000 m: 8 °C
Temperature in 3.000 m: 2 °C
0°C limit: 3600 Meter


Weather tomorrow:
Sunny weather with local patches of fog disappearing in the morning. Northerly winds.
Max.
24 °C
Min.
11 °C
Weather development:
21.09.2019
22.09.2019
23.09.2019
Max. 23 °C
Min. 3 °C
Max. 24 °C
Min. 4 °C
Max. 24 °C
Min. 4 °C
Enjoy your holiday: San Genesio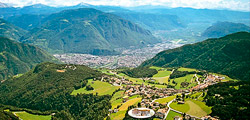 San Genesio and the Salto

Fascinating holiday world...
Summer

Summer freshness...
Winter

Fabulous winter holiday...
Experience Bolzano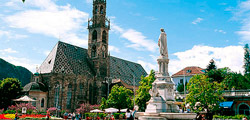 Experience Bolzano
Mercatino di natale
Bolzano Card