General weather situation today
A cold front determines the weather over our region.
General weather situation today:
In the afternoon a mix of sun and clouds with partly strong rain showers and thunderstorms.
Max.
27 °C
Min.
19 °C
Mountain weather today:
During the day dryer air masses and more stable conditions. In the morning reduced visibility due to clouds and some thundery showers. In the afternoon quite sunny.
Temperature in 2.000 m: 16 °C
Temperature in 3.000 m: 9 °C
0°C limit: 3900 Meter


Weather tomorrow:
Variable cloudy with local showers in the morning. Very sunny in the afternoon, northerly winds.
Max.
31 °C
Min.
17 °C
Weather development:
07.07.2022
08.07.2022
09.07.2022
Max. 32 °C
Min. 9 °C
Max. 31 °C
Min. 10 °C
Max. 32 °C
Min. 9 °C
Enjoy your holiday: San Genesio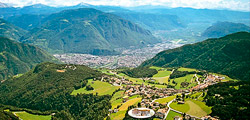 San Genesio and the Salto

Fascinating holiday world...
Summer

Summer freshness...
Winter

Fabulous winter holiday...
Experience Bolzano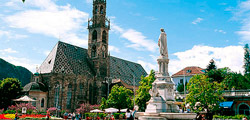 Experience Bolzano
Mercatino di natale
Bolzano Card