General weather situation today
A cold front will cross our region from Northwest.
General weather situation today:
Only partly sunny with rain showers and also heavy thunderstorms. In the evening weather improvement. Föhn winds in the North.
Max.
23 °C
Min.
18 °C
Mountain weather today:
High pressure conditions lead to summery, stable weather. Very good conditions with lots of sunshine. Residual clouds or fog will dissolve soon. Cumuliform clouds in the afternoon will remain small and harmless.
Temperature in 2.000 m: 12 °C
Temperature in 3.000 m: 3 °C
0°C limit: 3500 Meter


Weather tomorrow:
Sunny from sunrise to sunset. Only small cumuliform clouds will form. Windy in the northern valleys.
Max.
29 °C
Min.
13 °C
Weather development:
13.07.2020
14.07.2020
15.07.2020
Max. 29 °C
Min. 8 °C
Max. 29 °C
Min. 9 °C
Max. 28 °C
Min. 9 °C
Enjoy your holiday: San Genesio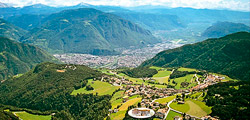 San Genesio and the Salto

Fascinating holiday world...
Summer

Summer freshness...
Winter

Fabulous winter holiday...
Experience Bolzano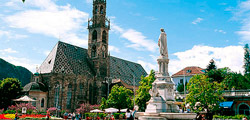 Experience Bolzano
Mercatino di natale
Bolzano Card