General weather situation today
The cold front will move eastwards and the currents will rotate northwards.
General weather situation today:
Monday's day will start again unstable with rain and snow. Snow limit around 1000 m. During the day, the rainfall will be exhausted and the sky will start to clear up from Val Venosta. Presence of foehn in many valleys.
Max.
11 °C
Min.
5 °C
Mountain weather today:
Temperature in 2.000 m: -4 °C
Temperature in 3.000 m: -13 °C
0°C limit: 1500 Meter


Weather tomorrow:
Max.
14 °C
Min.
1 °C
Weather development:
21.03.2019
22.03.2019
23.03.2019
Max. 17 °C
Min. -8 °C
Max. 20 °C
Min. -8 °C
Max. 22 °C
Min. -4 °C
Enjoy your holiday: San Genesio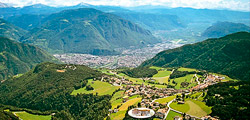 San Genesio and the Salto

Fascinating holiday world...
Summer

Summer freshness...
Winter

Fabulous winter holiday...
Experience Bolzano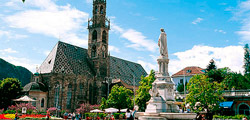 Experience Bolzano
Mercatino di natale
Bolzano Card