Discover the secret of equanimity in the Tschögglbergerhof
As of now, it is a matter of doing what you want instead of what you have to, of drifting along instead of planning.
That creates a sense of naturalness and banishes anger.
Our hotel is only a few minutes away from the village centre. It is surrounded by numerous meadows and abundant woodland and, from a somewhat elevated location compared to the rest of the village, offers a unique viewpoint overlooking the valley of the river Adige. On the other side, we offer an ideal starting point for numerous hikes; or, if you prefer, horse rides out into our wonderful countryside. We warmly recommend a carriage ride to you. It is an unforgettable experience!
Our cuisine is something very special. It has been praised by several restaurant guides and is very much appreciated by our guests. Let us entice you! Our large sun terrace and sunbathing lawn invite you to stay a while and enjoy life. Our rooms are snug and invite you to relax. You can relax completely in our charming wellness area. It breathes new life into your body, mind and soul!
Whoever wants to leave his car in the garage when on holiday can usethe bus stop only 80m away from the hotel or take the cable car down to Bolzano. We highly recommend our bus from San Genesio to Merano 2000 for going on hikes. Or make use of what your BozenCard offers. You can travel free of charge on all means of public transport. You have free admission to more than 80 museums and much more besides.
A dreamlike backdrop of mountains, glorious hikes, varied experiences and impressions, a relaxing time in our wellness area and culinary delights are waiting for you!
Enjoy your holiday: San Genesio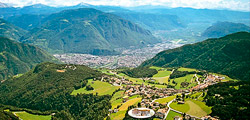 San Genesio and the Salto

Fascinating holiday world...
Summer

Summer freshness...
Winter

Fabulous winter holiday...
Experience Bolzano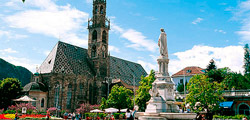 Experience Bolzano
Mercatino di natale
Bolzano Card