Summer sun
Sun for body and soul. Holidays in San Genesio are simply indescribable. Alpine air does your body, spirit and soul good and is an eternal fountain of youth.
TIP
Greifenstein Castle is also called "Sow Castle", its name derives from the saga of its victories. The defenders of the castle were in great danger, and realised that their supplies were about to run out. Only a single fatted pig remained in the castle cellar. But one of the men had an idea ­ instead of slaughtering the pig, they threw it up and over the castle wall, laughing, in front of their conquerors, who lost their courage on seeing this, believing that the defenders must have had ample supplies. In the end, the attackers pulled back, and Castle Greifenstein was saved.
Our free time tips for your holiday
Enjoy your holiday: San Genesio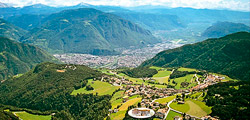 San Genesio and the Salto

Fascinating holiday world...
Summer

Summer freshness...
Winter

Fabulous winter holiday...
Experience Bolzano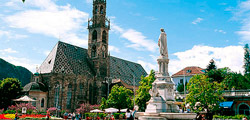 Experience Bolzano
Mercatino di natale
Bolzano Card