Salto
Trace the vernacular in the legends of Salten while out hiking. 132 pupils from San Genesio´s elementary school have written and illustrated 12 local legends in a most creative way. Fabric remnants, roots and other natural and artificial materials depict figures and situations from the fascinating traditions of the vernacular. Besides to ignorant hikers the occasional Haflinger rider stops at one or other of these settings and feels surprised or fascinated.
Enjoy your holiday: San Genesio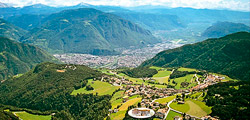 San Genesio and the Salto

Fascinating holiday world...
Summer

Summer freshness...
Winter

Fabulous winter holiday...
Experience Bolzano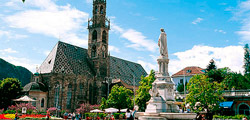 Experience Bolzano
Mercatino di natale
Bolzano Card