Exercise in the fresh air, no matter what the weather is like, is a pleasure!
Fragrant steam sauna, hot dry steam room, hot whirlpool at 38 degrees, warm bench to relax on and Kneipp baths that are beneficial for your health are waiting for you. Our massages and related treatments will make you fit in body and mind. You will feel it doing you good. Fortify yourself with fresh fruit and apple juice free of additives from San Genesio. Snuggle into your bath robe, seek out a comfortable spot in our rest room and enjoy the captivating view of our world of mountains.
Health is not everything, but without it life is meaningless!
Even Schopenhauer knew it and today that proposition is more topical than ever.
Enjoy your holiday: San Genesio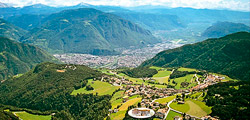 San Genesio and the Salto

Fascinating holiday world...
Summer

Summer freshness...
Winter

Fabulous winter holiday...
Experience Bolzano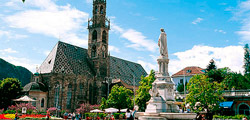 Experience Bolzano
Mercatino di natale
Bolzano Card