Welcome to the Tschögglbergerhof!
1957 - 2016 How it all began...
In1957, my great-grandfather, Franz Wenter, opened the Hotel Sonnenparadies, laying the foundations for a passion which has carried on through to this day – the joy of being a landlord and landlady.
In 1970, my great-grandfather opened the Pension Laurin guest house together with his wife Maria. My grandmother, Waltraud Wenter, skilled cook and born landlady, took over the Sonnenparadies in 1974 together with her brother Max. But they had greater aspirations…
In 1980, the Tschögglbergerhof opened. It went on to become a tavern as well as a guest house, a famed and much loved meeting point for guests from far and wide.
In 2007, with my mother Hedwig Gamper at the helm, the Tschögglbergerhof was extended to accommodate 11 new suites. In 2009, our welcoming spa area was completed.
Our rooms have been renovated regularly over the years. In 2014, we renovated the entire reception area and built our beautiful conservatory.
And now, we are fulfilling a long-held wish! We're getting a wine cellar. I'm looking forward to the wine-tasting sessions and sociable get-togethers!
Claudia Mumelter
Enjoy your holiday: San Genesio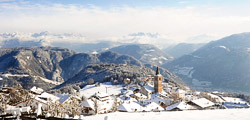 San Genesio and the Salto

Fascinating holiday world...
Summer

Summer freshness...
Winter

Fabulous winter holiday...
Experience Bolzano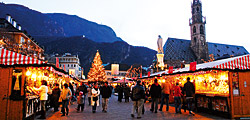 Experience Bolzano
Mercatino di natale
Bolzano Card