What the Tschögglbergerhof offers you
The ABC of the Tschögglbergerhof
A.
Active holidays on the sun terraces above Bozen
B.
BozenCard, the invaluable guest card
C.
Ciao! Come and enjoy a taste of the Dolce Vita!
D.
Dozens and dozens of signposted hiking paths – more than 300 km!
E.
Europe's largest larch wood, the exceptionally beautiful mountain plateau of the Salten
F.
Fabulous breakfast buffet with regional products, home-made delicacies, freshly prepared egg dishes made with eggs from happy hens.
G.
Gourmet and wine lover secret tips
H.
Homely suites and cosy larch bedrooms
I.
Infrarred booths, steam bath, sauna, Kneipp trail
J.
Joy in quality of life, sustainability and the public good
K.
Know your wines – guided cellar tours, vineyard excursions and wibne tastings
L.
Love horses? Riding and horse-drawn carriage rides with our precious Haflingers
M.
My new wine cellar
N.
New! Vinum Hotels Südtirol. We're part of it! Find out more about the special wine highlights
O.
Ötzi… find out about him
P.
Phenomenal panoramic views over the Dolomites, World Heritage Site.
Q.
Quite an expedition – head off the beaten track on guided trips with Florian, Hedwig, Claudia
R.
Relax to the max in our welcoming, cosy spa area
S.
South Tyrolean hospitality and regional tastes
T.
Tschögglbergerhof: It's always been particularly good.
U.
Untouched nature, enjoying the view, having the time
V.
Vegetariand, vegan, gluten-free options
W.
Wholesome… a thing to be experienced, not described.
X.
Xtra special holiday
Y.
Yoga, Massages, Whirlpool
Z.
Zillions of hours of sun – well, two thousand five hundred, and the most in all of South Tyrol.
Inclusive services
weiterlesen »
The Tschögglbergerhof is located in a small mountain village on 1.100 meters above sea level and right on the edge of a forest. The most dominant feature of the village is its 180° view on the Dolomites mountains, UNESCO world heritage site. Who needs the vibrant city beat for a change can reach Bolzano in a short car ride (8 kilometers distant).


Cuisine


Welcome aperitif with small appetisers
Breakfast à la carte menu with exclusively local and homemade products is served from 7:15 a.m. to 10:45 a.m. It includes a vast selection of vegetarian and vegan options.You can expect South Tyrolean fine cheese and charcuterie, freshly prepared à la carte egg dishes, ever-changing à la carte breakfast dishes, a daily minimum of 10 different types of in-season fruit and vegetables, cold-pressed juices, and much more.
Dinner is served from 6:30 p.m. to 9:00 p.m. There is always a vegetarian or vegan option on the evening menu.
Our sommeliers can recommend typical South Tyrolean wines for your dinner menu


Forest Spa


Free access to the Forest Spa with saunas, steam bath, relaxation- and yoga rooms and a vast selection of health treatments


Pools


Free use of our heated 18 meters infinity sky pool, heated indoor pool, and sun terrace



Relax


Daily relaxation programme with yoga, Shinrin-yoku forest bathing, progressive muscle relaxation, and much more.
18-metre Infinity Sky Pool, indoor pool, sunny rooftop terrace, and 180° panoramic view of the UNESCO World Natural Heritage site, the Dolomites
Forest Spa: our spa area in the spruce forest with various saunas, treatment rooms, and indoor and outdoor resting areas, all with relaxing tree views
Spa basket with cosy bathrobe, bath towel, etc.
Mats, blocks, belts, and pillows for yoga and gymnastics


Hiking


BozenCard, guest card for free use of public transport, such as busses, trains, cable cars and hiking shuttles.
Hiking corner with extensive hiking library, weather stations, tour suggestions, provisions corner
Hiking sticks, rucksacks, snowshoes, etc.
Look forward to the more than 800 kilometres of hiking in and around the Monzoccolo/Tschögglberg, located on the sunny plateau between Bolzano/Bozen and Merano/Meran. The heart of this area is the mystical Salto/Salten with the largest interconnecting larch meadows in Europe


Transportation


Free use of the Tschögglberg hiking shuttle, cable cars, local trains and busses with your guest card.


Wifi

Free wifi connection throughout the hotel, except the restaurant area.
Promotions and deals
weiterlesen »
Why not stay a bit longer?
5% discount: for bookings of 5, 6 or 7 nights
10% discount: for bookings of 8 or more days
cumulative with eco bonus
not cumulative with other offers and package deals
discount not valid for New Year's eve season and for Ferragosto holiday week (around 15th of August)
Eco bonus
If you arrive by train, you will receive a 5% discount on the accommodation price (applies to all adults in the room). We can pick you up from the train station in Bolzano/Bozen and you can use all public transport free of charge
Free charging for electric cars
Booking conditions
weiterlesen »
Prices
Rates are per person and day including half board (breakfast and dinner).
The local tax of € 1,90 per person and day from the age of 14 is not included in the price.
Children rate is valid if they are accommodated in their parents' room if there are two parents.
Double room for single use on request. Single room supplement 30% - 50%.
Our bank details
Raiffeisenkasse Bozen, Jenesien branch, Dorfstrasse 12 a, 39050 Jenesien, Saltus srl
IBAN IT IT02U0808158800000302031698 - BIC: RZSBIT21203
Rooms
Deviations regarding distribution, equipment and materials etc. within the individual categories possible.
Your room is available from 3 pm on the day of your arrival until 10.30 am on the day of your departure.
Restaurants
Breakfast from 7.15 am to 10:45 am (restaurant)
Lunch from 12 am to 2 pm (restaurant)
Afternoon menu from 2 pm to 7 pm (lobby)
Dinner form 6.30 pm to 9 pm (restaurant)
Relaxed cancellation policy (applicable for all bookings of 2022)
Stormy times require flexibility. We are changing our cancellation policy until further notice, so you can start planning your vacation and enjoy the anticipation. No deposit is required for the time being and cancellations are free of charge up to one week before arrival. A processing fee of € 30,- per cancellation will be deducted. Within 7 days before arrival, we charge 70% and within 2 days before arrival, in case of no-show or early departure we charge 100% of the booked stay (*regardless of resale)
Cancellation policy
For cancellations* 14 days or less before arrival, we charge 50%, for cancellations 7 days or less before arrival, we charge 80%, and for no-shows and early departures, we charge 100% of the booked stay. A processing fee of € 30,- per cancellation will be deducted. (*regardless of rebooking)
Travel insurance & deposit
We recommend settling the deposit via your credit card in order to activate the cancellation cover of your credit card
Information for a cancellation insurance can also be found on our homepage
Dogs and other pets
Dogs and other pets on request. We ask € 25,- per dog/pet per day.
Please inform us in advance if you bring your pet with you.
Dogs and other pets are not admitted to the restaurant, spa, pool and garden.
Other
We accept Debit and Credit Cards (VISA and Mastercard). Checks cannot be accepted.
Errors and changes to above information possible.
Children reduction
weiterlesen »
Prices for children
(in the parents room):
0-3 years: -70%
4-8 years: -50%
9-13 years: -40%
from 14 years: -30%
Trip cancellation insurance
weiterlesen »
Enjoy your holiday: San Genesio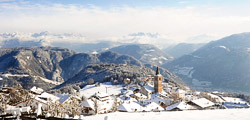 San Genesio and the Salto

Fascinating holiday world...
Summer

Summer freshness...
Winter

Fabulous winter holiday...
Experience Bolzano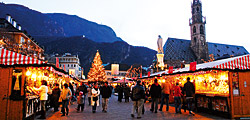 Experience Bolzano
Mercatino di natale
Bolzano Card