Horse riding
Discover this magnificent area on horseback and experience a spark of freedom. Take a trip through the beautiful larch woods on a horse drawn sleigh. Our stables are, naturally, at your disposal and we will be delighted to accompany you by sleigh or on a riding trip on our Haflingers.
Ridign in group
1 hour
€ 24,00
Every hour in more
€ 18,00
Riding aloane
1 hour
€ 33,00
Every hour in more
€ 24,00
Prices for sleigh rides (on a couch with 6-7 persons) - indicative prices without guarantee

1 hour (per sleigh)
€ 75,00

Ride on the "Salten" (3 - 4 hours) with
a stop in a mountain hut (per person)

€ 30,00
Ride in a sleigh aloane - without other person
€ 150,00
Enjoy your holiday: San Genesio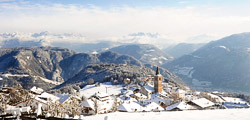 San Genesio and the Salto

Fascinating holiday world...
Summer

Summer freshness...
Winter

Fabulous winter holiday...
Experience Bolzano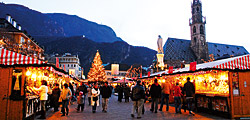 Experience Bolzano
Mercatino di natale
Bolzano Card